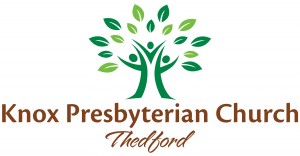 Thank you for stopping by!
Knox Presbyterian Church, Thedford is a small town congregation
with a big vision: to love God and love others.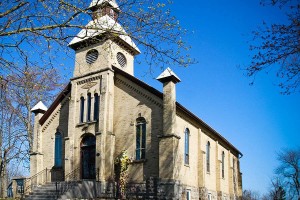 Take a look around the website – or better yet, visit us in person.
A Letter to the Knox Church Family
June 12, 2020
Dear KPC Family,
How I miss you! In person, together, singing, praying, laughing, greeting, serving together.
For over three months we have been apart. And that is sad, and sometimes very hard for us all.
But we have been together while apart: in prayer, on the phone, in the many ways of communication open to us now, and during online, livestreamed worship each Sunday, our three small study groups, ZOOM@NOON youth group gatherings, our hymn sings, and via Facebook live, "Lights on Mondays", and "Holding Bread". I am grateful to Jesse, Jim and Catherine who make it possible to do the service online, and to Helen Hayter for her ongoing cleaning of the church. I am very grateful we had the wisdom and foresight to proceed with investing years ago in the technology that has allowed us to continue worshipping together quite easily.
In recent days, the provincial government has announced that churches may re-open for worship at 30% capacity. Many have wondered when Knox will be open, and when we will get 'back to normal'. This announcement has made those wonderings more concrete.
Elders met last night via ZOOM to discuss re-opening in light of the government announcement.
We have looked at not just the numbers in that announcement, but the recommendations and protocols that accompany it: the wisdom of health care professionals and available research.
We listened to you, in conversations that elders have had, and I have had. We love one another, and want the best for each other and our community. The "gold standard" of re-opening a church for worship is not simply about numbers. It is also about high standards of safety to avoid further transmission of the COVID 19 virus. That gold standard includes:
*entry/exit by one door only + everyone sanitizes upon entry + all must wear masks
*no singing, no greeting/passing the peace
*no childrens' programs, unless public health child care standards can be observed and staff wear PPE
*no hymnbooks, paper, bulletins(so removing all hymnals, Bibles etc. from the sanctuary would be needed, unless you want to sanitize each one every week)
*no communion + no coffee/lemonade sharing
*seating must be distanced: 2 M apart, every other pew
*all surfaces must be sanitized/disinfected prior to and after use – think handrails, door handles, elevator, every chair, every row of pews, pulpit, lecterns, microphones, AV equipment, tables
At our meeting last night, we have come to the following conclusion:
That Knox Church will not re-open for worship at this time
. The reports are that people are engaging well with worship online, and would prefer to wait until we can gather with a greater degree of safety – including being able to sing and greet one another.
What we suggest instead
,
as provincial guidelines and your own prayerful common sense indicate, is that extended family or small groups of friends and neighbours begin to gather for Sunday mornings, engaging in worship together. If the weather is good and it is possible, you might worship on the deck, in a garage, practicing physical distance. If you need some technological help, please contact myself, Jesse Whitfield or Gary Brown; all are willing to assist you or make recommendations on how to do that well.
We will invite our musicians back to help lead the service on Sunday morning, as they feel comfortable. We can keep that number well within the guidelines and have the space to physically distance.
We are committed to the following:
>
to improve and expand our online connection, with better presentation of Sunday worship.
>
to invest in and provide a children's program so that our Kid Connection families have faith formation available easily, as parents are already burdened with online school and additional pressures due to the pandemic.
>
to continue online study groups
>
to offer "KPC CONNECT" groups via ZOOM – small groups of people who would meet together twice a month for 40 minutes, to stay in touch, enjoy talking, hearing how everyone is doing, with a short discussion related to a topic, story, current event, or message-related idea. If you would be willing to host such a group, please contact me.
>
Elders will continue to (or start) regular phone, email or text communication with people assigned to their care. New elders groups will be finalized next week.
We remember:
When COVID 19 and the lockdown arrived, we were anticipating welcoming new members, baptisms and more. For those waiting to join, we haven't forgotten you…please consider yourself part of the KPC family…we will put you on an elder's list so you are connected.
For those wanting to be baptized, or have your baby baptized: we can hardly wait for that, and will do so when it is safe and we can all celebrate. In the meantime…know that you and they are precious in God's sight and part of our KPC family.
We welcome:
During the last few months, we have reached people beyond our local community, and have new extended family who are joining us from farther away and have found a home at KPC…we welcome you and would be happy to put you on an elder's list so you are in regular contact…just send your contact info to Pastor Chris and we'll make it happen. Feel free to join in any of our online gatherings! We value your gifts and talents and look forward to an ongoing relationship!
If you have any questions, concerns, suggestions, we want to hear them! Feel free to contact me, Dianne Rice (519-243-2628) or your elder.
We are together while apart:
In the meantime, know you are in my prayers daily. I deeply appreciate your prayers and support, and the cards, messages, and posts received. Please continue to reach out to one another. We all need the reminder that we belong to the Lord and one another!
May the Lord Jesus Christ go with you, where He may send you;
May He guide you through the wilderness,
protect you in the storm;
may He bring you home rejoicing at the wonders He has shown you;
may He bring you home rejoicing once again into our doors.
Our theme this year at KPC is
The Way!
Our prayer
is that you'll be blessed and strengthened
and find a hope that overflows
through a growing relationship with Jesus Christ!
KPC is here for you – we're a family of believers and seekers who come together to worship God, to grow in our faith, to show love,
to laugh and to make a difference!
Our Mission:
At Knox Presbyterian Church,
we seek to
glorify the Lord Jesus Christ
and be led by the Holy Spirit
in worship, in daily life, and in serving God
as we serve our community and beyond.
We are a congregation that is part of a family of churches in the "Reformed Tradition"…which means that we value things like God's sovereignty, God's grace, God's Word, God's World, and thoughtful, faithful living in this time and place.
We believe that the label over a church door isn't the main thing – honouring the Living Lord Jesus Christ is! We're not perfect, and welcome imperfect people. Come with your deep faith and with your deep doubts; come with your praise and with your pain.
We welcome all who are on a journey of faith, seeking to love God, Father, Son and Holy Spirit,and grow in loving others.